Impressive Kitchen Remodel Options Available to Homeowners in Rose Hill, KS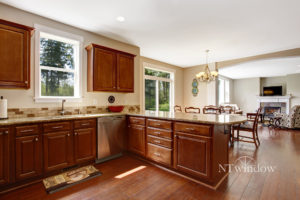 If you're ready for a kitchen remodel at your home in Rose Hill, Kansas, or a surrounding community, look no further than the professionals at Homeland Construction Services. We have proudly served the area since 2000 and all of our projects are completed with the meticulous attention to detail that you desire out of a home remodeling contractor. We're truly the kitchen remodeling contractor you can trust to make your space as aesthetically appealing and functional as you desire.
At Homeland Construction Services, we proudly offer comprehensive kitchen remodel services. We truly specialize in full-scale kitchen remodeling projects that will transform your space from top to bottom. From the material of your kitchen countertops to the configuration of your appliances, you'll be able to customize every single detail of your kitchen.
Also, we can even handle smaller kitchen remodel projects if that's what you'd prefer. Some of the more popular standalone kitchen remodel services we offer include:
Replacing the countertops
Upgrading the kitchen cabinets
Installing a kitchen island
Adding a tile backsplash
Contact Us Today!
If you're ready to start generating ideas you have for your kitchen remodel at your home in Rose Hill, KS, or a surrounding community, contact Homeland Construction Services today to get started with a free in-home consultation or an appointment at our showroom.