Impressive Shower Remodel Options Available to Homeowners in Wichita, KS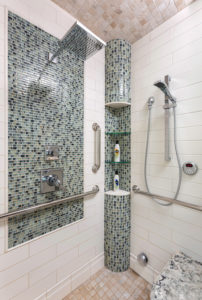 If you desire to have a brand new, remodeled bathroom shower with a clean and flawless shower pan at your home in Wichita, Kansas, or a surrounding area, look no further than the experts at Homeland Construction Services. We have proudly served the area since 2000 and provide top-of-the-line bathroom remodeling services to homeowners throughout the area. Our team of talented craftsmen has the expertise needed to ensure your custom bathroom remodel or shower upgrade completely meets the vision you have for your project.
Shower Replacement Options
At Homeland Construction Services, we ensure that your shower replacement will be completed to your specifications. We offer completely custom services based on your specific remodeling goals. Our shower upgrades can be completed as a tub-to-shower conversion or we can replace your already existing shower with a more appealing product with a beautiful backsplash or appealing floor tile.
Additional Bathroom Remodeling Options
Furthermore, when you turn to Homeland Construction Services, we can provide you with a wide range of additional bathroom remodeling services. Our trained and experienced team of in-house professionals will bring integrity and honesty to every job we complete and we will offer the highest level of craftsmanship and attention to detail throughout every aspect of the project. Furthermore, we back all of our bathroom remodels with a LIFETIME workmanship warranty for added peace of mind.
For more information about the shower and bathroom remodeling options that we offer to homeowners in Wichita, KS, and the surrounding areas, contact Homeland Construction Services today. When you do, make sure to ask about the convenient financing options we offer to all qualifying homeowners.