Beautiful Double-Hung Windows Available to Homeowners in Wichita, KS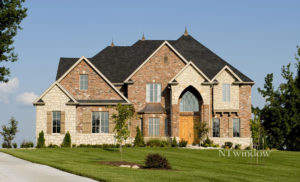 If you're looking for new replacement windows at your home in Wichita, Kansas, or a surrounding area, look no further than the experts at Homeland Construction Services. If you're unsure of what type of window you desire for your residence, one of the most popular products available to local homeowners includes double-hung windows. These beautiful products stand out from other replacement windows because they have two operating sashes that move up and down allowing for ventilation on the top, bottom, or both.
Advantages of Double-Hung Windows
In addition to the functionality benefits of having new double-hung windows installed at your home in Wichita, KS, or a surrounding area, there are many advantages that only double-hung windows can provide. These additional benefits include:
Energy efficiency – When you have double-hung windows installed by the professionals at Homeland Construction Services, you'll be able to experience what it's like having windows installed that are truly designed to reduce HVAC expenses, reduce energy loss, and improve the comfort of your home.
Enhanced airflow – Our double-hung windows can allow more ventilation at your home than any other window product thanks to their ability to easily open up and down to let in a breeze when you desire it.
Low maintenance requirements – Double-hung windows allow the functionality for each sash to tilt in making cleaning your window more simple than ever before.
And more
Contact Us Today!
At Homeland Construction Services, we uphold our values of honesty and integrity in every single project we complete. Contact us today for more information about the impressive double-hung windows that we offer to homeowners throughout the Wichita, KS, area.