Stunning Pergolas Available to Homeowners in Wichita, KS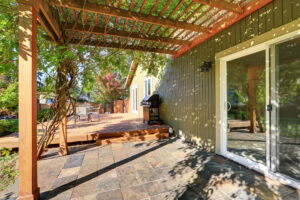 Have a pergola installed in your backyard so you can spend more time in the great outdoors! Shade from pergolas provide a break from the sun and offer the endless creative potential for hanging plants and vines. You'll be able to put the finishing touches on your backyard with a beautiful pergola from Homeland Construction Services. Never again will you need to search for a location at your home to relax or entertain because you will have a private oasis in your very own backyard. We proudly offer beautiful pergola structures to homeowners in Wichita, Kansas, and the surrounding areas. With us, you'll receive a system that is built to last for years to come.
Professional Installation Services
If you're ready to have a pergola installed at your home, you can rest assured that Homeland has you covered. Our team of expert craftsmen will install your new pergola to your exact specifications and won't consider their job complete unless you're completely satisfied with the final result. Our dedication to excellence has even influenced our decision to offer a LIFETIME workmanship warranty for added peace of mind.
Contact Us Today!
Let your new outdoor pergola greet friends and family with friendliness and warmth. Start with your imagination and then put us to work designing your new backyard product. Contact Homeland Construction Services today to schedule a consultation. We proudly serve homeowners in Wichita, KS, and all surrounding areas.