A Reliable Concrete Patio Contractor in Wichita, KS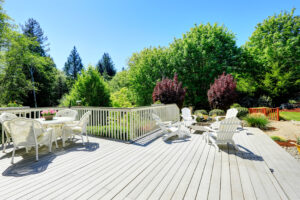 A concrete patio can be a great addition to your backyard, allowing you to spend more time outdoors enjoying the view. For a custom patio that meets your every need, turn to the local patio contractor that has helped countless homeowners live out their backyard dreams—Homeland Construction Services. We understand that you want your concrete patio to be a beautiful extension of your home so we'll discuss your vision for the space to design a patio that looks and functions exactly as you desire.
Our Custom Patios
When you turn to Homeland Construction Services for a new patio, you'll be pleased to know about the many benefits of our systems, including:
Durability – Our patios hold up extremely well to the elements and maintain their beautiful appearance year after year.
Affordability – Unlike other patio systems that may be more complicated to build and have expensive materials, our patios are much more affordable, and last longer to boot.
Customizability – Concrete patios can be colored and stamped to replicate almost any type of stone or brick without the downsides often found with those products.
Furthermore, a patio can serve as the starting point for a pergola or new deck down the road. Selecting a concrete patio installer who goes beyond just providing patio enclosures and listens to your vision will make it easy to transition to that next step. At Homeland Construction Services, we take great pride in installing premium concrete decks and have over 20 years of experience in the home improvement industry. In fact, we feel so strongly about the work our installers perform and the quality of our products that we offer a LIFETIME workmanship warranty for added peace of mind.
For more information about what makes us stand out as the leading patio installation contractor available to homeowners in Wichita, KS, and the surrounding areas, contact Homeland Construction Services today.