Impressive Sunrooms Available to Homeowners in Andale, KS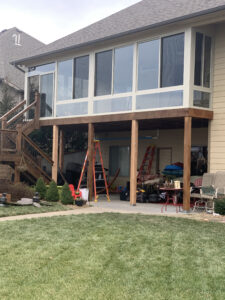 A sunroom addition is a great option if you're looking to expand the living space of your home and enjoy more natural lighting. No one knows this better than Homeland Construction Services, the source for residential sunrooms for homeowners in Andale, Kansas, and the surrounding areas. Since our founding in 2000, we have helped homeowners throughout the area with all of their home improvement needs.
Furthermore, at Homeland Construction Services, we are proud to be an independent, authorized dealer for Betterliving® Sunrooms and can help you design the perfect sunroom addition for your home. Some of the styles we offer include:
Studio sunrooms with a sloped roof that complements single-story homes perfectly
Gable sunrooms that have an A-frame roof to add another dimension of light to your home
Enclosed porches for homes that need windows and doors installed under an existing patio
Impressive Installation Services
Our in-house team of trained and experienced installers will offer the utmost care during the installation of your new sunroom. Our team members strive to ensure that your project is completed correctly and won't consider the job complete until you're satisfied with the final result.
Contact Us Today!
For more information about the benefits of selecting Homeland Construction Services for sunrooms at your home, contact us today. We are proud to serve homeowners throughout the Andale, KS area.