Impressive Bathtub Replacement Options for Homeowners in Wichita, KS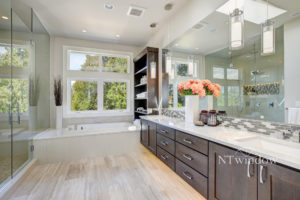 A bathtub replacement is a great choice if you're looking for ways to enhance the bathroom space at your home in Wichita, Kansas, or a surrounding area. In addition to making your bathroom more beautiful and relaxing, it can also increase the value of your home. Thankfully, local homeowners can turn to the professionals at Homeland Construction Services who have proudly served the area since 2000 by providing top-of-the-line bathroom remodeling services to homeowners throughout the region.
Homeland Construction Services doesn't take a one-size-fits-all approach when it comes to bathroom remodeling. We offer completely custom services based on your specific remodeling goals. Replacing your tub will allow you to receive a more stylish, upgraded tub that will increase the value of your home if you choose to sell. And, with a brand new bathtub in place, you'll be able to take advantage of a low-maintenance product that will grant you more time relaxing in the tub and less cleaning after it.
Comprehensive Bathroom Remodel Services
Also, once your design plan has been finalized, we'll work with you to select the perfect products and materials to fill in the details of the plan. You can visit our showroom to view many of these products in person, and we'll offer expert advice as to how best to complete your new space.
For more information about the impressive bathtub replacement services we offer to homeowners in Wichita, KS, and the surrounding areas, contact Homeland Construction Services today.