High-Quality Bathroom Remodel Services available to residents of Maize, KS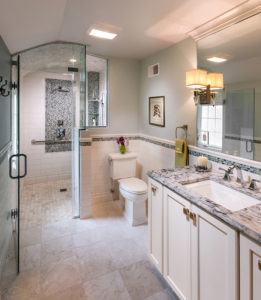 A bathroom renovation is one of the best investments you can make when having a home improvement project performed at your home in Maize, Kansas, or a surrounding area. This is because a bathroom remodel will make your home more beautiful and comfortable while also increasing the value of your home. If this is something you desire at your residence, look no further than the experts at Homeland Construction Services who have proudly served the area since 2000 by providing top-tier bathroom remodeling services to homeowners throughout the area.
Comprehensive Bathroom Remodel Services
Homeland Construction Services doesn't take a one-size-fits-all approach when it comes to bathroom renovation. This is because we completely customize our services based on the specific goals you have for your project. Whether you desire a full-scale bathroom remodel that includes everything from a walk-in shower, heated tile flooring, or better lighting, we're able to provide the services that suit your needs. In fact, no matter what your bathroom remodeling goals may be, we'll work closely with you to draw up a design plan that suits your needs.
As a local bathroom remodeler that brings honesty and integrity to every job we complete and will offer the highest level of craftsmanship and attention to detail during the construction process. And, we back all of our bathroom remodels with a LIFETIME workmanship warranty for added peace of mind.
Contact Us Today!
If you're ready to find out more about what it's like having a bathroom remodel performed by the experts at Homeland Construction Services, contact us today. We proudly help homeowners throughout the Maize, KS, area, and will even offer financing options to help put your project more within reach.